So yesterday I was asked a totally reasonable question: Is it time for districts to start thinking about adopting updated materials…especially since the California Math Framework has been revised. I provided an answer, but I feel like my answer changes weekly.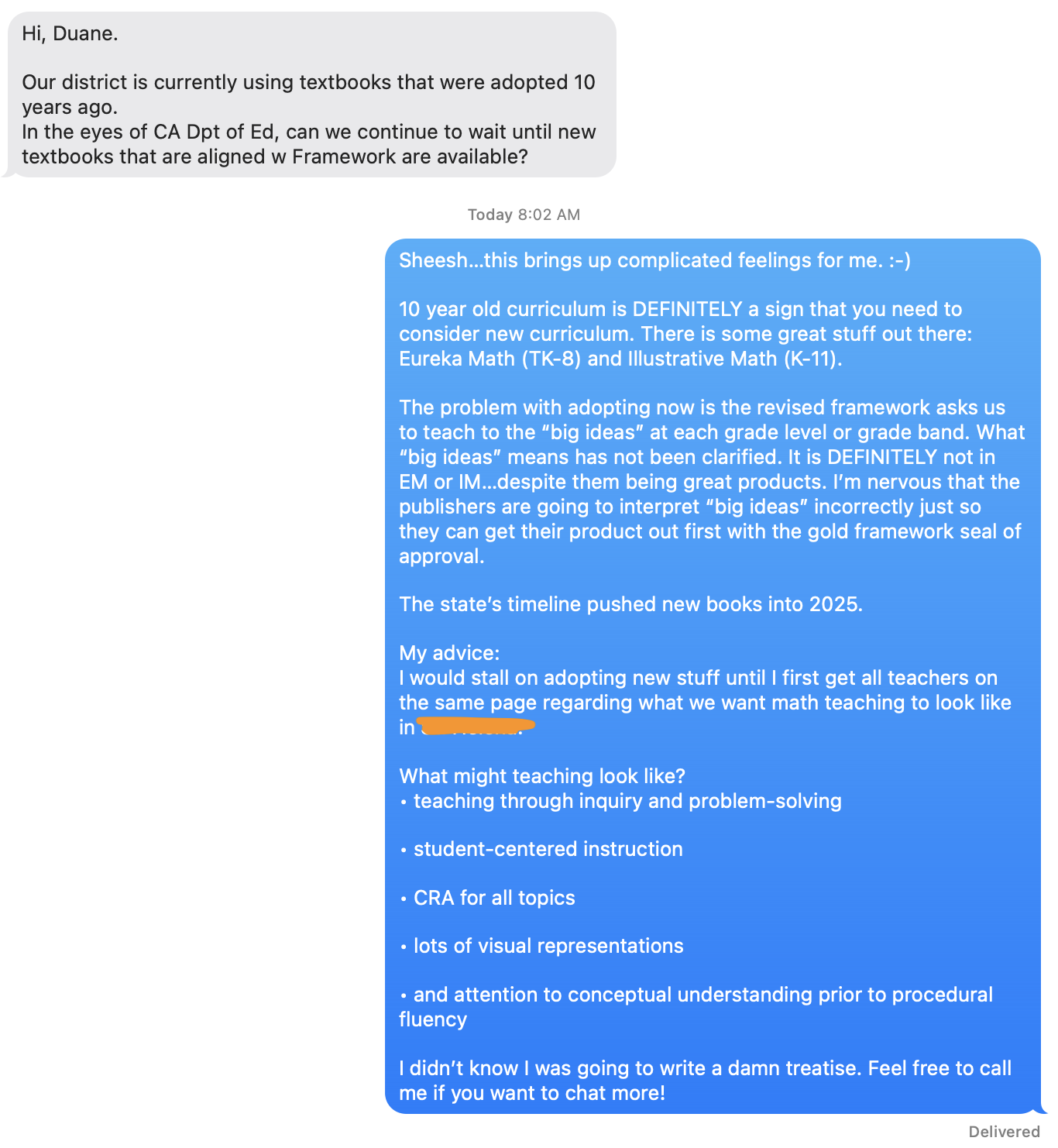 Read on and let me know your thoughts about my response:
QUESTION:  "Our district is currently using textbooks that were adopted 10 years ago.
In the eyes of CA Dpt of Ed, can we continue to wait until new textbooks that are aligned w Framework are available?"
MY REPLY:
Sheesh…this brings up complicated feelings for me. 🙂
10 year old curriculum is DEFINITELY a sign that you need to consider new curriculum. There is some great stuff out there: Eureka Math (TK-8) and Illustrative Math (K-11).
The problem with adopting now is the revised framework asks us to teach to the "big ideas" at each grade level or grade band. What "big ideas" means has not been clarified. It is DEFINITELY not in EM or IM…despite them being great products. I'm nervous that the publishers are going to interpret "big ideas" incorrectly just so they can get their product out first with the gold framework seal of approval.
The state's timeline pushed new books into 2025.
My advice:
I would stall on adopting new stuff until I first get all teachers on the same page regarding what we want math teaching to look like in [your school district].
What might teaching look like?
teaching through inquiry and problem-solving
student-centered instruction
CRA for all topics
lots of visual representations
and attention to conceptual understanding prior to procedural fluency
I didn't know I was going to write a damn treatise. Feel free to call me if you want to chat more!
…………………………..
I ask you, the reader of this blog post: How did I do? What are your thoughts?
.
.
.