Learning to love math just got way more fun!
Introducing Tiny Polka Dot, the colorful card deck that grows with your child!
With 16 easy-to-learn games that playfully teach math, from counting & early numeracy to arithmetic & logic, Tiny Polka Dot is the perfect way to nurture your child's love of math: through play!
This PDF ($5) comes with color-background and white-background versions of the cards. It also includes rules cards for 16 games.  Or use a set of these cards to play Dot Fives.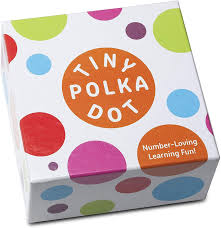 Rules
Select two sets of numbers (for the Tiny Polka Dot version, you Teal 0-5 [the dice faces] & Blue 0-5 [the ten frames]) although any two number representations will work.

Deal all cards face down.

Take turns turning up two cards.  If the pair has a sum of 5 dots between them, keep the match and go again.  If not, say the sum and turn the cards face down again.

Game ends when all cards are matched.  For more games, buy

Tiny Polka Dot

or purchase the

download

.
.
.
.