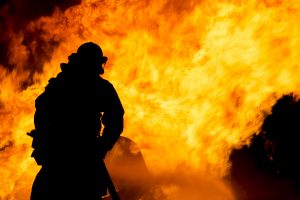 We're breaking from our normal two-week cycle because Maggie works in Santa Rosa right in the middle of those big fires[1] you likely heard about. We had taken a bit of a break from recording while Maggie's family packed and readied themselves for an evacuation that could have happened at any moment.
After having been closed for 11 days, schools re-opened last week; and the community is now left to rebuild their lives.
In this episode Maggie discusses the fires and how they affected the students and the adults responsible for teaching those children.
We know that students subjected to traumatic stress can exhibit unprovoked anger, classroom outburst, withdrawal, and/or self-harming behaviors[2].  Unfortunately, it is really hard for the teacher to discern whether these behaviors are the result of extended exposure to violence, abuse, or neglect, or if the behaviors are merely the result of students being precocious.
It is not clear to me how the fires themselves might contribute to this sort of stress, since fires are short-term, while the stressors discussed in the article are described as "ongoing". It is certainly true, however, that the fires may push a family – previously already on the edge – into a season of long term domestic stress, including homelessness, violence, and neglect.
It is important for us teachers to be aware that some students in our class may be experiencing real trauma. We must strive to create safe environments and employ Positive Behavior Intervention and Supports[3] (PBIS).
In the case of Santa Rosa, teachers must do this even when they may find themselves homeless as a result of the fires.
It is truly humbling how difficult it is to be a teacher.
.
.
.
.
.
.
[1] "Santa Rosa, Sonoma, Napa California fires: Death … – Washington Post." 14 Oct. 2017, https://www.washingtonpost.com/news/post-nation/wp/2017/10/14/more-californians-ordered-to-flee-as-gusting-winds-spread-wildfires/. Accessed 5 Nov. 2017.
[2] "Schools promoting 'trauma-informed' teaching to reach troubled students." 2 Dec. 2013, https://edsource.org/2013/schools-focus-on-trauma-informed-to-reach-troubled-students/51619. Accessed 5 Nov. 2017.
[3] "California – PBiS." https://www.pbis.org/pbis-network/california. Accessed 5 Nov. 2017.